28th July 2020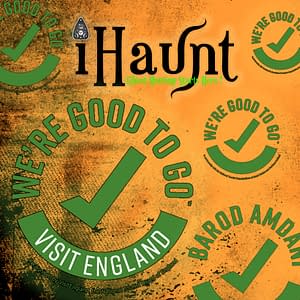 Coronavirus (COVID-19)
As we have mentioned during lockdown and cessation of iHaunt events, we have have been working hard to make sure when our events resume guest and staff are all safe.
On that note, iHaunt is pleased to have been awarded the 'We're Good To Go' Industry Standard certificates. Not only for England but also Scotland, Wales and Northern Ireland.
We know that the last few months have been a trying time for everyone. iHaunt wants to ensure enjoyment at our events, so we have invested heavily is sanitisation for venues. We will provide our customers with hand sanitiser, but you all must bring your face coverings. We have some iHaunt printed mask coming soon for those of you who wish to look the part.
A face covering should: cover your nose and mouth while allowing you to breathe comfortably. Fit comfortably but securely against the side of the face.
We should also, as individuals follow government guidelines. Keep a safe distance from others, and when this is not possible, cover your mouth and nose with a covering and continue to wash our hands as much as possible.
All our staff have completed COVID 19 prevention training courses and are ready to get back to ghost hunting.
As a small business, we will continue to monitor the government guidance.
If there is anything you are unsure about, then please send us an email, and we will get back to you.
email: ihauntuk@gmail.com
---
17th March 2020
*** IMPORTANT ANNOUNCEMENT ***
CORONAVIRUS (COVID-19)
Having assessed the current announcements by the government over the last couple of days we have decided to cancel our upcoming events and planned future ones.
This is not ideal but we feel that our events fall into non-essential contact and unnecessary travel.
Please check your emails about your booking you have with us and please be patient while we work through all of you.
Our apologies and we hope to resume normal service at some point in the not to distant future.
15th March 2020
Coronavirus (COVID-19)
Good morning,
It was announced that the UK government could be rushing through legislation to put a ban on mass gatherings and although the numbers of mass gatherings are not confirmed as yet it is looking like mass gatherings of over 500 people.
iHaunt will continue to run the events as normal until otherwise instructed from the UK government only. So when attending the events please be mindful that you are in good health and you have none of the symptoms below;
· A Cough
· A High Temperature
· Shortness of Breath
If you do have any symptoms it would be advised not to attend.
We also ask that you also bring your own hand sanitizer where possible. We will try and have some at the events but as there is a UK shortage we may run out. Likewise with tissue.
I'm sure you all know of the COVID-19 situation by now, and unless there are any further updates by the UK government we look forward to ghost hunting with you all.
Thank you
@ihauntuk